So, it's summertime and you want to plan a special and memorable party for your child. But, let's be honest, this seemingly simple task can sometimes be overwhelming for us busy parents. However, the good news is that with a little bit of organization combined with some time-saving strategies, you can create an incredible celebration your kiddo will love without adding an extra serving of stress to your already full plate. To help you get started, I'll share my top 3 go-to tips for creating an extraordinary summer birthday (even if you're low on time). 
Top 3 Tips for an Easy Children's Summer Birthday Party
1. Choose a Theme that Capitalizes on Summer Fun
One of the best things about summer is all of the fun activities that can be enjoyed by children of all ages.. So, it makes sense when you start your children's party planning to choose a theme that aligns with the summer season. Some popular themes that reflect the fun of summer are beach parties, a luau, or a festive carnival. Or you could think outside the box and go with an outer space-themed birthday theme. (Moon Landing celebration, anyone?)
But what makes these themes a no-brainer is that decorations will be readily available during this time of year. And when you're planning your decor, think bright colors, beachy decorations, festive games, and refreshing treats. By picking a theme that aligns with the summer months, you'll streamline your planning process plus create a fun event that is sure to delight your kiddo and their guests.
2. Simplify Invitations and RSVPs
As a busy mom, you're always pressed for time. This is why I recommend simplifying the invitation and RSVP process. Platforms like Evite or Paperless Post are complete game-changers. Not only can they help you create adorable digital invitations that fit with any summer theme you choose, but with the RSVP response built in, keeping track of your attendees is a snap. And you'll be able to send last-minute announcements to your entire invite list with a simple click of a button.
And since it's summertime, try to send out invitations early (before school lets out). This will make it easier to connect with parents and ensure your event is added to their busy schedules.
Also, try to avoid events that coincide with 4th of July or Labor Day. These are busy travel holidays and you run the risk of kiddos your child loves to hang out with not being unavailable to attend.
Plus by eliminating the need for physical invitations and depending on snail mail, you'll save valuable time yet still maintain the personal touch with the use of fully customizable templates.
3. Plan for the Location
Depending on where you live, summer weather can sometimes wreak havoc on outdoor plans. Consider daily afternoon sprinkles in Florida or 120° heat in Nevada. Any of these can put a damper on your planned outdoor activities. Add to that the uninvited guests summer heat may bring: gnats, mosquitoes, and their pesky friends can truly disrupt a fun event.
But if you dream of an outdoor summer birthday party, never fear. You can create a truly special event in your own backyard or if you live near a nice park, park shelters are also great locations. (If you do want to book at your local park, you'll want to reach out well in advance).
I also recommend including activities that can take place in or outdoors and have a Plan B in place, just in case. And remember, what's great about kids is just how much fun they can have with a little planning. Indoor scavenger hunts, fun activity sheets and coloring pages can make a memorable party inside or outdoors.
Bonus Party Planning Tip: Incorporate Pre-Made Decorations & Food
For the busy mom, using pre-made decorations is our secret weapon. Once you have a theme, many stores offer a variety of party supplies or even party-in-a-box kits that will help you quickly transform your space into a festive party your kiddos will adore.
Additionally, consider ordering pre-made platters or catering services to simplify the food preparation process. By reducing the time spent on these tasks, you'll have more time and energy to focus on what's most important: creating special moments with your child, family and friends.
Even for the busiest moms, planning a summer birthday party your child is sure to love doesn't have to be a daunting task. By selecting a theme that aligns with summer, simplifying invitations, planning for your location, and using pre-made party-in-a-box kits, you can save time and still create an unforgettable experience for your child. Remember, the most important thing is to celebrate your child's special day and create amazing memories together. If you would like more of my favorite children's party planning strategies, check out my recent blog post.
Happy party planning!
Nothing says childhood memories quite like a party. The combination of festive decorations, yummy cake, and the promise of possible presents is a delicious combination for any kid.
Planning, on the other hand, can be a recipe for a headache for busy moms and dads. To help make sure your next event is a memory everyone will cherish, here are my top 10 ways to simplify your party planning.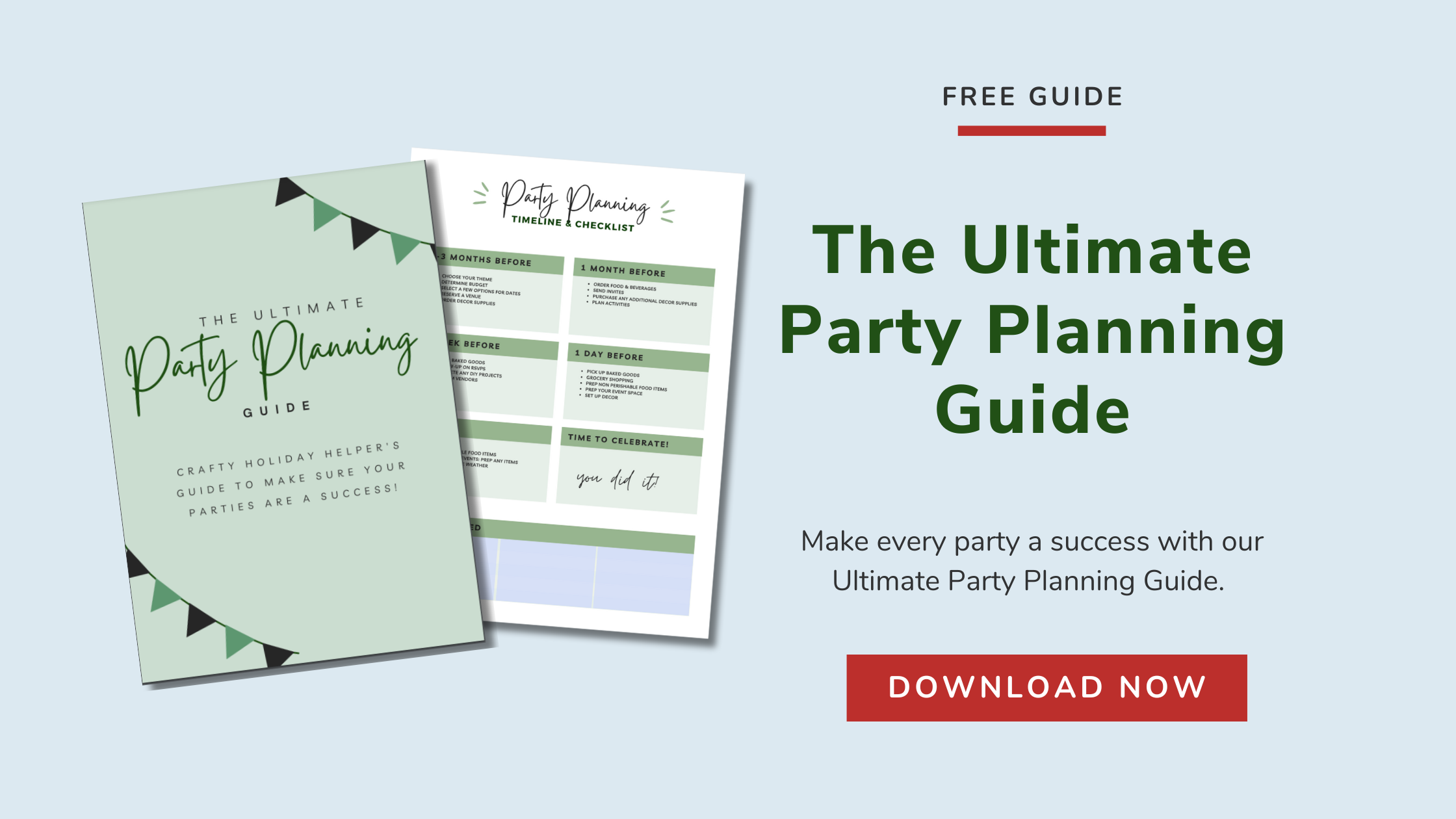 Top 10 Tips for Stress-Free Party Planning
1. Keep it simple.
"Go big or go home" is not a mantra for good party planning. Especially when you're planning a family party centered around your kiddos, it's better to keep it simple.
Children can get overstimulated easily so it's not necessary to have a detailed itinerary chock-full of interactive, engaging activities for the entire time you've blocked out for the party.
Not everything needs to be handmade and handcrafted to be Pinterest-worthy. What they'll remember is the feeling of fun they had, so let "Keep it simple" be your mantra as you go about your party planning.
2. Pick a theme.
Whether it's to celebrate a birthday, holiday, or season, picking a theme is a great way to help you make a cohesive event.
Remember, keep it simple. If it's approaching summertime, have a Summer Celebration bash. Or if your child loves rockets, you could have an outer space-themed party.
Here are a few guidelines for picking a theme that will make a great party:
Make sure it's age-appropriate.
Find a theme that aligns with your child's personality or interests.
Choose a theme with readily available decorations to cut down on sourcing time or the need to create them yourself.
3. Create a party schedule.
One of the biggest decisions you'll need to make is how long your party will be. Too short and you'll feel like it was rushed. Too long and you may be scrambling to find ways to keep the kids occupied.
Once you've decided on how long your party will be (2 hours is plenty for little kids, 3 hours if they're older), the next step in party planning is to create a schedule of events. Look to create a flexible schedule of activities, games, or possible entertainment along with any extras like singing Happy Birthday or cutting a birthday cake. This will help you feel in control of your party and minimize any stress you have about hosting.
4. Let your kids help with event planning.
If you're planning a party for children, don't be afraid to pull your own kids into the party-planning process! They know best whether their friends would enjoy a party game or activity. Plus, they'll also let you know if any of the plans you do have in place won't work with their peer group.
Not only will this give you time to bond with your child, but it will give them a boost to know that they helped bring their ideas to life with a successful event with their friends and family.
5. Plan your guest list.
One of the most popular questions when planning a children's party is whether you need to invite the siblings or not. And the honest answer is: It depends.
There are a few questions you'll need to answer when it comes to creating your guest list and deciding whether to invite siblings or not.
How big of a party do you want?
What is the budget for your party?
Are there space considerations?
What is the overall vision you have for your event?
The answers to these will help you decide who you want to invite and whether you want to include siblings (and their parents). Whatever your policy or limitations, clear communication around it will help things go smoothly and save you time and headache.
6. Practice Good Party Etiquette.
While inviting siblings is completely up to you, there are some etiquette standards that will shape your decision, including:
Younger siblings may need to be included because of age, lack of childcare, etc.
If you want parents to stay for the event, you will need to include the siblings.
It is completely fine to specify "No Siblings". Just make it clear from the outset on your invite whether they are included or not.
Also, make it clear on the invitation whether you allow parents to drop off their kids without attending themselves.
7. Use technology to help you party plan.
From tracking RSVPs to organizing your party planning list, technology can save you a lot of time and money. Invitation platforms allow you to create gorgeous invites or e-vites that can be completely customized, manage your RSVPs, and allow you to communicate with your attendees all in one place.
You can also use technology to create your event schedule, plan your menu or collect photos after the event.
8. Say "Yes" to dessert.
Now, this suggestion should in no way be seen as an endorsement of cake. (Though who doesn't love cake?) It really doesn't matter what you choose for dessert, but serving some sort of dessert accomplishes a few things:
It ensures that all attendees are completely engaged together at least once.
It is a sweet moment that signifies the party is coming to an end.
So, whether you want to serve a scrumptious fruit salad or a delicious Tiramisu, having a dessert is a lovely way to round out your party planning.
9. Entertainment is optional.
If you have the budget, booking a performer, balloon artist or face painter is a great addition to your children's party.
Don't have the budget?
No problem.
One of the wonderful things about kids is their ability to be easily entertained. There are some great online scavenger hunt templates or our party boxes come complete with activity packs that can help keep kids engaged, without the need for outside entertainment or performers.
10. Expect the unexpected.
If attending over a decade's worth of children's parties has taught me anything it is this: expect the unexpected. Uninvited siblings may attend, the cake may not be delivered, or the Super Mario performer may be running late. These things by themselves can not ruin a party.
When you expect the unexpected, you can prepare yourself to deal with anything that comes your way gracefully and shake off anything that doesn't go according to plan. A perfect party isn't necessary for the perfect childhood memory, after all.
Download Our Free Ultimate Party Planning Guide
We know that a perfect party may seem like an impossible feat, but with a little bit of planning we believe everyone can have extraordinary events!
That's why we've put together a Free Ultimate Party Planning Guide, complete with checklists, timelines, and more of our party planning tips.
Spring is in the air and that means Easter is just around the corner! It's time to dust off your bunny ears and start planning the ultimate Easter party.
Whether you're planning a small gathering at home or a larger event with lots of guests, there are plenty of ways to make this Easter a memorable one.
From delicious Easter recipes to creative Easter crafts for toddlers and kids, these Easter party ideas are the perfect way to help you easily create magical memories with your family this spring!
Fun Easter Craft Activities for Kids
Get those kids up and moving with these simple DIY Easter activities perfect for all ages! Choose one or try them all! They're sure to keep your kids entertained at your next Easter party.
Easy Easter Crafts
Easter-themed craft activities are a great way to keep kids entertained and engaged. You can set up a craft station with supplies such as construction paper, markers, stickers, and glue.
You can also prepare materials for specific projects such as making Easter bonnets, painting eggs, or creating Easter baskets.
Here are a few fun favorites your kids are sure to enjoy:
Easter Bunny Sun Catcher
This adorable Easter Bunny sun catcher craft from Happy Toddler Playtime is a fun Easter craft that can be enjoyed by kids of all ages at your next Easter party! The directions include a tracer to make creating this bunny a breeze!
Simply grab paper, scissors, and glue to easily create this adorable sensory-filled suncatcher.
Get the directions and full info on this springtime craft right here.
Spring Chick Paper Plate Craft
This spring chick is the perfect craft for your next Easter party or as a fun springtime activity for toddlers and kids alike!
Create a craft station and put the supplies in labeled containers and let your kids dive in! Grab the directions at Simple as That.
Cotton Ball Paper Plate Bunny
Here comes Peter Cottontail! Perfect for large parties, this Easter bunny craft uses fun household supplies that are both simple and inexpensive! craft designed by Happy Toddler Playtime is a great way for kids to get creative at your Easter party and bring home an adorable decoration at the same time!
Easter Egg Decorating Station
Painting eggs is a classic Easter activity that kids of all ages absolutely love! Here are some quick tips for creating an "egg-stra" special Easter egg hunt this spring!
Set up a table with a variety of egg-decorating supplies
Place dye, stickers, markers, and glitter in containers for the kids to choose from
Hold a contest for the best-decorated egg, most colorful, most creative, etc with prizes for the winners
Put a Spin on Easter Egg Decorating: USE COOL WHIP!
You can also give egg decorating a different spin this year with Cool-Whip Dyed Easter Eggs.
This adorable Easter craft from Crafty Morning, is another great way to get some creativity flowing at your next Easter celebration.
She also suggests using shaving cream for a non-edible version but if you have zero food allergies at your party, the Cool Whip version is pretty spectacular!
Egg-cellent Easter Party Decorating: Made Simple
No Easter party is complete without decorations and simple DIY party decor! Your kids will absolutely love diving into this Easter Party box and taking part in decorating your home.
This Easter Party in a Box comes with everything you need to create the perfect Easter celebration in your home.
The best part? You can decorate your home early on and enjoy these decorations throughout the entire easter season!
Adorable Easter Balloons
Easter-themed place settings
Completely mapped out scavenger hunt with prizes
And so much more!
Simply pop open the box and let Crafty Holiday Helper create magical Easter memories…minus the hassle!
Hoppin' Easter Party Recipes Kids Love
Whether you're planning a fabulously extensive Easter brunch or just hosting an Easter party with yummy snacks and Easter desserts, these Easter Recipes are sure to please!
Easter Bunny Veggie Tray
This adorable snack tray created by Emily Enchanted is the perfect way to serve up a healthy Easter or springtime snack to your kiddos! Easy to create, you'll love shopping for and putting this fun Easter appetizer together!
This adorable app also makes a great centerpiece with our Easter party plates you can grab right here.
Easter Cookies or Cupcake Decorating
Want a fun way to get the kids moving at your Easter celebration?
Easter is the perfect time to do some baking. Prepare some sugar cookies like these adorable egg-shaped cookies from Ahead of Thyme or cupcakes in advance and set up a decorating station with frosting, sprinkles, and other decorations.
Set up a decorating station for kids to move around and get creative with their own Easter-themed treats.
Place Easter-themed baggies on a table and the kids can take these home as a tasty souvenir of the day.
Funny Bunny Fruit Platter
Another simple recipe to throw together for your party, this healthy snack is perfect for kids (and adults) of all ages!
Choose your favorite fruits or follow this recipe to design your fruit platter like the one pictured above!
Easy Easter Peanut Butter Thumbprint cookies
Whether you make these ahead of time or have the kids decorate these adorable cookies, they're perfect for your next Easter Celebration. Get the recipe from Six Sister's Stuff right here.
Easter-themed Games & Activities
Whether it's an indoor party, an outdoor celebration, or a combination of both, Easter-themed games are a great way to get your kids moving at your next Easter party.
Here are a few Easter game ideas we know your kids will absolutely love!
Classic Easter Egg Hunt
An Easter egg hunt is a classic tradition that kids love. You can make it even more fun by hiding not only chocolate eggs but also plastic eggs filled with small toys or candy or add in the eggs your kids created!
You can also create clues or a scavenger hunt to make it more challenging for older children.
Hide the eggs both indoors and outdoors, depending on the weather and the size of your space.
Easter Piñata
A piñata is always a hit at any party. You can make an Easter-themed piñata with paper mache and shape it like an Easter egg or a bunny.
Fill it with small Easter-themed toys, candy or even miniature plastic eggs.
To make it more challenging for older kids, use a blindfold and spin them around before trying to hit the piñata.
Easter Bunny Photo Booth
Kids love taking photos, especially when they can dress up and use props.
Create an Easter Bunny photo booth with a backdrop and some fun accessories such as bunny ears, noses, and tails.
You can also include some spring-themed props such as stuffed animal bunnies, flowers, or butterflies. This is a great activity for both kids and adults, and it will provide some great photo memories for the day.
These Easter party ideas are a simple way to celebrate the holiday and keep kids of all ages entertained throughout the day!
Hop to it: Wrapping up your Easter Party
We've officially hatched some eggcellent ideas for your next Easter party that are sure to be a hit with your entire family.
Many of these activities can be modified for older or younger children so keep in mind the ages of your guests at your party to ensure everyone has a fun and safe experience.
Whether you're decorating Easter sugar cookies, crafting bunnies, or hosting an Easter egg hunt, get the kids involved in the party planning fun to make the day even more special.
Choose some, (or al), l of these ideas for your next Easter party, and create a memorable experience for your little ones that you'll all cherish for years to come.
Getting ready to plan your next party?
Crafty Holiday Helper has simplified party planning for any occasion!

From birthday party decor and summer party fun to Halloween, Christmas and so much more, Crafty Holiday Helper is your one-stop shop for all things party!

Creating magical memories has never been easier! Shop now at Crafty Holiday Helper.
Ah, Christmas! The holiday season is a time for cocoa, candy canes, and traditionally, a splash of craziness. As parents or caregivers of little ones, the Christmas season is a time for creating those magical holiday memories your kids will cherish well into adulthood.
It doesn't go without saying, however, that these memories often come at the hand of sleepless nights, withering wallets, and stress-induced shopping.
Thankfully, here at Crafty Holiday Helper, we've found (and created) the best ways to make those Christmas memories magical…minus the madness.
Must-Do Christmas Crafts & Holiday Activities Everyone Will Love:
Below we've found some amazingly simple, yet adorable, hands-on holiday activities that are certain to cut down on the Christmas craze this year. These tried and true Christmas crafts and ideas are the perfect way to ensure that you sit back, relax and have fun with your kids this holiday season! 
These delightfully delicious spoons are adorable and fun to make! Certain to warm up those little fingers on chilly days!
Create your very own Christmas Bucket List for the entire family!
Family members of all ages can join in on the fun by selecting an activity on this list or by adding in one of their own. Place this list of favorite activities up on the fridge for a season filled with fun recommendations from everyone.
This adorable, simple activity uses marshmallows, chocolate chips and a few other kid-approved ingredients to let your kids make their own snowmen!
Fingerprint Christmas Lights
You only need paints and paper to create this adorable Christmas craft! Simple and fun, this craft is one that you'll always cherish!
Perfectly simple Christmas decorating is what Crafty Holiday Helper is all about! Answer the question of how your elf travels back and forth from the North Pole each night with this adorable elf door! Place the door by the fireplace and set the stage for your elf to travel to and from your home to spread Christmas magic!
This adorable idea from Crafty Morning is the perfect way to combine crafting with a favorite sweet treat. Perfect for small hands and fine motor skills, this adorable sheep ornament is super fun to make! 
Create Your Own Snow Globe!

The Dollar Store is one of our favorite spots for craft supplies: especially for Christmas DIY projects! Just check out this awesome DIY snow globe holiday craft that's made with inexpensive items! It's sure to be one of those favorite holiday crafts you can do year after year! Simply grab these items:
Bottle Brush Trees
Synthetic Snow
Plastic Snow Globe
Hot Glue Gun
Create several of these with your kids to use as holiday home decor or DIY these snow globes as gorgeous homemade Christmas gifts to friends and family! For all the info on how to create these awesome DIY Christmas snow globes, check it all out right here.
EASY DIY Paper Straw Christmas Tree Craft
Create an earth-friendly biodegradable Christmas decoration with your kids this holiday season! These colorful Christmas trees made from paper straws from Crafts by Courtney are the perfect holiday craft for kids! Prop these colorful paper straw Christmas tree decorations in your windows and doorways to display a truly decorative scene created by your kids this holiday season!
Toilet Paper Roll Reindeer
Oh, deer! This reindeer craft is so cute and super easy! Grab toilet paper rolls or even paper towel rolls, paint, and a couple of craft supplies to make this simple craft your kids will love.
Creating magical holiday memories and traditions that you'll enjoy with your family for years to come is what Crafty Holiday Helper is all about.
Get a Jump on your Christmas Elf Decorating
Skip the craziness of the holiday season with the only essential Christmas Elf Kit you'll need.
Crafty Holiday Helper's elf kit is an essential part of creating the perfect Christmas decorations for your kids with zero effort!
Featuring 27 high-quality, adorable props your kids will love, our Christmas Elf Kit is the best way to get a jumpstart on making memories that will last a lifetime without sacrificing sanity.
Below we uncover how easy it is to use our Elf Kit, what's included in this year's indispensable collection and how to order yours before the season starts and we sell out!
Why The Christmas Elf Kit?
At Crafty Holiday Helper, we're passionate about helping you to make lifelong magical memories for your loved ones. Our popular Christmas Elf Kit is one of the many ways we simplify the season by helping you to bring holiday magic into your home!

With 27 delightfully funny, adorable, scenes, cards, and more for your elf, the Crafty Holiday Helper Elf Kit has the days leading up to Christmas completely covered.
Our elf kit easily helps you to:
Save Time: scenes are created and completed for you in one kit!
Create life-long memories
Kick back, avoid stress and enjoy more of the celebrating
Make magic happen with thoughtful scenes, note cards, and more
What's Included in my Elf Kit?
Christmas Elf Ideas with your Crafty Holiday Helper Elf Kit:
Get Your Christmas Elf Kit features elf decorations and props that are certain to surprise your kids leading up to the big day until Christmas Eve! Inside your kit you'll find:
An Official Arrival Letter! Yay! Your elf has arrived! Our kit includes two adorable letters: one for newly adopted elves and one for returning elves.
Magical Glove: avoid any chances of your elf losing its magic with this magical glove. Things happen and if your elf somehow falls over or gets kidnapped by the family pet, this magical glove is there to save the day and retrieve the elf without losing its magical power!
Special Travel Container: Traveling this holiday season? Your elf has nothing to worry about! Portable, convenient & luxurious, you can safely take your elf anywhere this Christmas season. From busy airports to grandma's house. (Also serves as PPE for visiting elves.)
27 Detailed Scenes: specially designed for endless fun and creativity the entire season through! Set up magical scenes with whimsical props this season. Every prop is of the highest quality so you can reuse them every season!
Infraction Cards: Have you been naughty or nice? Each printed card is officially signed by your elf for extra authority. Having a stack of these cards available will bring you peace and joy.
Departure Letter: When your elf is ready to depart on Christmas Eve, have them leave behind a letter your children will collect for years to come.
Creating Christmas magic every day requires NO effort when using Crafty Holiday Helper's Christmas Elf Kit! Forget the chaotic crafting and messy late-night stressful elf decorations. Simply open our Christmas Elf Kit each and every day and take out the adorable elf decorations such as:
Elf Baseball Scene: Have baseball fans? This scene comes complete with bat, ball, and an adorable note card!
Elf Connect Four Scene comes with an elf-size Connect Four and a note card from your elf.
Elf Pizza Scene: your elf has a "pizza" in his heart for your kids!
Elf Bicycle Scene: Do your kids love to ride bikes? So does your Elf with this scene! Comes with a bike and a note card from your elf!
Plus so many more elf scenes to fill your kids' Christmas countdown days with magic and fun!
How Does the Christmas Elf Kit Work?
Sit back, relax and watch the magic unfold! Our Elf Kit makes Christmas traditions an absolute breeze. Our quality and thoughtfully designed cards and elf decorations will have your kids excited to greet their elf every single day. What's even better, is that it takes seconds to choose your scene and place it with your Christmas Elf!
Here's how the magic all comes together:
Order your Christmas Elf Kit: place your order no later than November 16th so it arrives in time. Then keep it hidden until it's Thanksgiving night!
Start the Adventure: On Thanksgiving night place your Christmas Elf and the included arrival letter in a place your family will be sure to find them. Then the magical fun begins!
Enjoy the Elf Antics! Create silly adventures for your elf using the elf decorations and scenes kit each day leading up to the big day! Surprise your kids every morning with our detailed, funny props for your kids!
Memories that will last for years and years to come: Christmas Eve will come and your elf will need to say goodbye. Your elf will leave behind an adorable departure letter and memories for you and your family!
Creating magical holiday memories and Christmas traditions that you can enjoy as much as your family is what Crafty Holiday Helper is all about. Order your Christmas Elf Kit and create the perfect holiday magic for your family this Christmas season!
Discover why our Christmas Elf Kit is one of our most popular kits each year. Be sure to order yours before they sell out!

Looking for more amazingly simple ways to create memories with your kids? From back-to-school celebrations to birthday parties and fall fun, Crafty Holiday Helper has it all. Check out these posts for more incredible ideas:
Celebrate back to school with our back to "cool" school kit Here
Check out the BEST summer ideas Here
Got a birthday party coming up? Check out this complete birthday kit your kids will be sure to love
Happy Father's Day to all you amazing dads out there! Whenever this holiday comes around, my children and I like to plan a very special day together full of crafts and activities for the leading man in our lives. Simple activities on the day like riding a bike at the park or a family picnic actually go a long way; it's about making the dad in your life feel loved and special for everything they do.
Need a few suggestions to celebrate your Father's Day with dad? Check out a few ideas that we have done over the years:
LAZY MORNING
Create a morning brunch feast of his favorite foods (yes, including cookies!) with a fresh cup of coffee or tea. An activity that is fun on a lazy weekend afternoon is tackling a puzzle featuring his favorite theme! You can even have the completed puzzle framed and hang it as a piece of art.
GAME NIGHT
Board games are another fun way to celebrate Father's Day! With so many choices from Sorry, Trouble, or Guess Who, you can pull out all the family board games (or/and card games!).
You can add a little competition and see who wins the most (hint, it should be dad) and offer a prize! Want to take this idea up a notch? Host game night with other dads in the neighborhood. A friendly little competition never hurt anyone.
CATCH SOME SUN
Get outdoors with a hike or a bike ride! Personally speaking, we love beach walks and hikes. It's an excellent way to stay active with the kids and take a break from everyday adulting (and electronics).
Check out a new park to hike around in, and then have a family picnic. This would be a pleasant disconnect from all the possible distractions at home. If your dad is an outdoorsman, maybe consider planning a fish or camping trip or even bird watching!
GRILLMASTER MOM
Calling all moms, it time to turn up the heat. Host a small Fathers Day cookout inviting all the dads you have come to know or treasure. Have mom be the grill master for the day, and the littles can set the table up for all the dads.
Load the outdoor dining table with classic summertime favorites like burgers, hot dogs, ribs, and grilled corn. If you have an extra Summer Kit, you could certainly use it for decor and as the tablescape for the kiddos. And, don't forget a section for outdoor games like corn hole, ladder toss, or giant Jenga! Be sure to keep a cooler of refreshing bevies nearby, especially since you'll be basking in the sun.
VIRTUAL ADVENTURES
Another fun idea you can incorporate in your Father's Day celebrations is a virtual tour! Is there a museum dad wants to check out and take in on a virtual tour? So many museums around the world are offering virtual tours.
You can visit three different museums in three other countries, making you the world's greatest traveler of 2021. The perk to this idea is you can stay in your PJ's and explore a museum after breakfast, lunch, or over a spread of all his favorite snacks in the comfort of being home.
I hope you enjoyed these ideas, and they help inspire your Father's Day celebration. Remember, no matter how you celebrate the holiday this year, it's about showing love and appreciation to the dad(s) in your life. Have a wonderful Father's day celebration; however, you plan to celebrate!
Share with me on Instagram how you celebrate this Father's Day!
Stay crafty,
Jaime
As we transition from Spring flowers in bloom to sunnier days, Summer is all about bright, saturated colors and scents that energize our senses for the new season.
Here are ways to add summer flair in just a few simple ways:
Summer scents: There is nothing like lighting a candle for a few hours while the aromas of beach or coconut permeate throughout your home. I tend to enjoy more fruited candles during the summer as well; it redefines the existing space in combination with adding pops of color.
Decorative elements: I love adding colorful features around the house throughout the summer. I tend to replace winter decorative pieces with bright blues and reds for that extra oomph right as Spring arrives. I also tend to switch out any outdated seasonal cookbooks and stationary!
Plants: One way I add a pop of color at home is through plants. The vibrant greens turn any space into an exotic paradise. During the Spring, one activity I enjoy with the children is planting new seeds, watching them grow throughout the summer. It's an excellent light project for the children, and smelling the fresh herbs and flowers fills our home, not to mention purify the air.
In addition to the Summer holidays, the sunshine provides an opportunity to be outdoors more with my family. Being physically active has always been important to me, and I believe it's vital for a healthy lifestyle. The more sunny days there are in California, the more I want to be outdoors, challenging my body and mind while connecting with my family, even if it's just for a few minutes.
While summer days can be packed with vacation getaways, long drives, and beach days, the excitement of all those adventures inspires me to make small tweaks to summer-ize our home!
How are you making your home Summer ready? Please share with me on Facebook, Instagram in the comments.
Stay Crafty,
Jaime
Happy Mother's day to all of you amazing mom's out there!
In our home, a holiday becomes a reason for us to celebrate. On Mother's Day, we usually spend time in the kitchen, beginning with breakfast morning and ending the evening with homemade cookies and family time. Sometimes we pull out the craft box and create decorations if we are hosting a Mother's Day brunch or dinner for the moms in our family.
Motherhood is such an amazing gift, and while it's no easy task (we moms are on call 24 hours and day, seven days a week, 365 days a year), and somehow we manage it all!
I wonder where my strength and patience come from, and then I remember, "Oh, yeah, my mom!" I also honor her today, as she inspired me to become the mom I am today for my children.
Throughout it all, I am thankful for the gifts of motherhood and grateful to have a day where we moms remind each other how special each of us is.
I wish you all a wonderful, memorable Mother's day this holiday! Share with me how you plan to celebrate in the comments on Instagram or Facebook!
Stay crafty,
Jaime
Happy National Siblings Day to these joys in my life! Motherhood offers many pleasures, and seeing of these tiny humans grow together is such a blessing. I learn more each day about their personalities, how they love and support each other as their bond grows, and it's magical.
Our home is filled with the sounds of children laughing and playing, and thankfully they reach the daily exercise suggestion with all the running around they do. In the midsts of all that sibling fun they share, my hope for them in adulthood is to recall these treasured moments as I do every day.
When I first became a mom, one of my goals (still is) was to create a happy childhood by celebrating holidays, birthdays, and family events. Celebrating each and every milestone, idea and dream. Through these moments of celebration and joy is how these kits came to life as they are my inspiration during playtime and family time every day. Observing their interests and understanding their curiosities individually and collectively inspires me, and I am sure it helps them encourage each other.
In my opinion, having siblings means they will always have a friend, a support system, a connection to each other through moments of celebration and growth. I enjoy seeing that beautiful unbreakable bond form early in childhood through each hug, kiss, and sweet moment exchanged as they grow.
How did you celebrate #NationalSiblingDay with your family? Wishing you a Happy National Siblings Day to your siblings and family!
Stay crafty,
Jaime
Ahhh, the sunny days of May prepare my family and me for Summer! School is almost out for the children (thank goodness for no more homework or trying to relearn fractions!), and this is the month where I begin to plan family activities.
I love the Summer holidays, giving us a reason to celebrate, and who doesn't want an excuse to gather together. One holiday that gears us up for in summer mode is Memorial Day! Usually, our home has been decorated with summer colors and vibrant plants (here's a blog post for simple ways to create a summer vibe).
Usually, by Memorial Day, the house is decorated, the grill is cleaned, and we gear up for the end of the school year, leaving us ready to spend some time in our backyard to play board games and bond with one another. Summer sunsets and early evenings are reasons the upcoming season fills me up with joy. Walks along the beach picking sea shells or spending time creating bonfires (roasting marshmallows, of course!) is another opportunity for bonding without the rush school responsibilities.
Here are a few other ways I gear up for Summer:
Reading list: While Summer reading may have an elementary feel to it, as a family we like to create a summer reading list. I believe it's important to read even one book together as a family. It's a different avenue of bonding and another topic at the dinner table as a family.
Outdoor games/sports: Who doesn't love outdoor fun!? Backyard scavenger hunts are a favorite in our household. Scavenger hunts are great for all ages, and you can customize them any way you wish. You may or may not see a scavenger hunt in an upcoming kit!
Summer foods: Food off the grill screams summer to me, grilled chicken, grilled vegetables (kabobs!) as well as homemade lemonade, and fun attempts to whip up a flavored ice cream together. I also love the fruits that are in season, everything from blood oranges, watermelon to cherries!
What are some ways you gear up for summer pre-Memorial Day weekend (here's a checklist to help you plan)? Do you have any favorite foods or fruits you tend to enjoy more? 
Please share with me on Facebook or Instagram, and don't forget to use #CraftyHolidayHelper!
Stay crafty,
Jaime