Nothing says childhood memories quite like a party. The combination of festive decorations, yummy cake, and the promise of possible presents is a delicious combination for any kid. 
Planning, on the other hand, can be a recipe for a headache for busy moms and dads. To help make sure your next event is a memory everyone will cherish, here are my top 10 ways to simplify your party planning.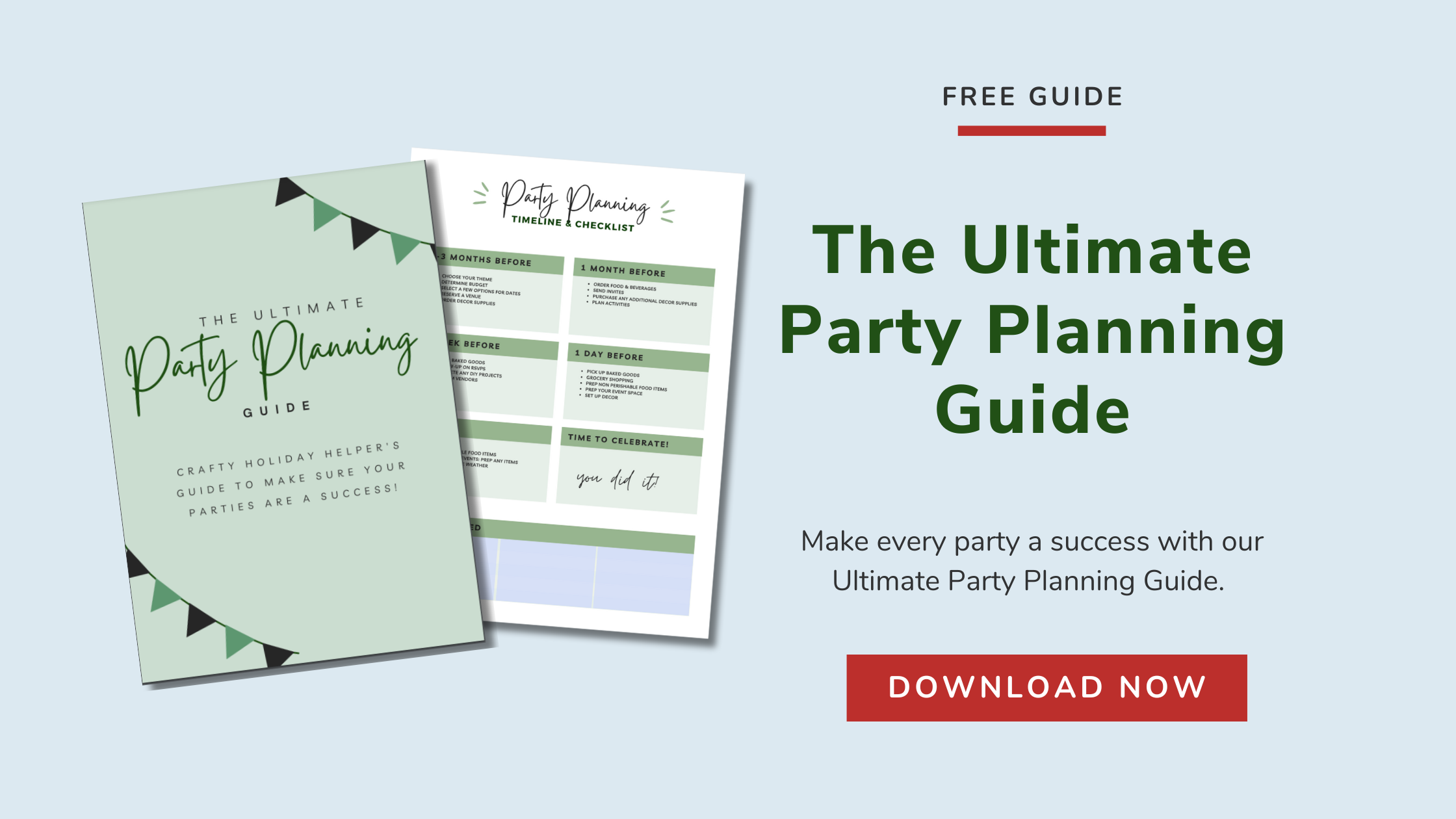 Top 10 Tips for Stress-Free Party Planning
1. Keep it simple.
"Go big or go home" is not a mantra for good party planning. Especially when you're planning a family party centered around your kiddos, it's better to keep it simple. 
Children can get overstimulated easily so it's not necessary to have a detailed itinerary chock-full of interactive, engaging activities for the entire time you've blocked out for the party. 
Not everything needs to be handmade and handcrafted to be Pinterest-worthy. What they'll remember is the feeling of fun they had, so let "Keep it simple" be your mantra as you go about your party planning.
2. Pick a theme.
Whether it's to celebrate a birthday, holiday, or season, picking a theme is a great way to help you make a cohesive event. 
Remember, keep it simple. If it's approaching summertime, have a Summer Celebration bash. Or if your child loves rockets, you could have an outer space-themed party. 
Here are a few guidelines for picking a theme that will make a great party:
Make sure it's age-appropriate.
Find a theme that aligns with your child's personality or interests.
Choose a theme with readily available decorations to cut down on sourcing time or the need to create them yourself.
3. Create a party schedule.
One of the biggest decisions you'll need to make is how long your party will be. Too short and you'll feel like it was rushed. Too long and you may be scrambling to find ways to keep the kids occupied.
Once you've decided on how long your party will be (2 hours is plenty for little kids, 3 hours if they're older), the next step in party planning is to create a schedule of events. Look to create a flexible schedule of activities, games, or possible entertainment along with any extras like singing Happy Birthday or cutting a birthday cake. This will help you feel in control of your party and minimize any stress you have about hosting.
4. Let your kids help with event planning.
If you're planning a party for children, don't be afraid to pull your own kids into the party-planning process! They know best whether their friends would enjoy a party game or activity. Plus, they'll also let you know if any of the plans you do have in place won't work with their peer group. 
Not only will this give you time to bond with your child, but it will give them a boost to know that they helped bring their ideas to life with a successful event with their friends and family.
5. Plan your guest list.
One of the most popular questions when planning a children's party is whether you need to invite the siblings or not. And the honest answer is: It depends. 
There are a few questions you'll need to answer when it comes to creating your guest list and deciding whether to invite siblings or not.
How big of a party do you want?
What is the budget for your party?
Are there space considerations?
What is the overall vision you have for your event?
The answers to these will help you decide who you want to invite and whether you want to include siblings (and their parents). Whatever your policy or limitations, clear communication around it will help things go smoothly and save you time and headache.
6. Practice Good Party Etiquette.
While inviting siblings is completely up to you, there are some etiquette standards that will shape your decision, including:
Younger siblings may need to be included because of age, lack of childcare, etc.
If you want parents to stay for the event, you will need to include the siblings.
It is completely fine to specify "No Siblings". Just make it clear from the outset on your invite whether they are included or not.
Also, make it clear on the invitation whether you allow parents to drop off their kids without attending themselves.
7. Use technology to help you party plan.
From tracking RSVPs to organizing your party planning list, technology can save you a lot of time and money. Invitation platforms allow you to create gorgeous invites or e-vites that can be completely customized, manage your RSVPs, and allow you to communicate with your attendees all in one place. 
You can also use technology to create your event schedule, plan your menu or collect photos after the event.
8. Say "Yes" to dessert.
Now, this suggestion should in no way be seen as an endorsement of cake. (Though who doesn't love cake?) It really doesn't matter what you choose for dessert, but serving some sort of dessert accomplishes a few things:
It ensures that all attendees are completely engaged together at least once.
It is a sweet moment that signifies the party is coming to an end.
So, whether you want to serve a scrumptious fruit salad or a delicious Tiramisu, having a dessert is a lovely way to round out your party planning.
9. Entertainment is optional.
If you have the budget, booking a performer, balloon artist or face painter is a great addition to your children's party. 
Don't have the budget? 
No problem. 
One of the wonderful things about kids is their ability to be easily entertained. There are some great online scavenger hunt templates or our party boxes come complete with activity packs that can help keep kids engaged, without the need for outside entertainment or performers.
10. Expect the unexpected.
If attending over a decade's worth of children's parties has taught me anything it is this: expect the unexpected. Uninvited siblings may attend, the cake may not be delivered, or the Super Mario performer may be running late. These things by themselves can not ruin a party.
When you expect the unexpected, you can prepare yourself to deal with anything that comes your way gracefully and shake off anything that doesn't go according to plan. A perfect party isn't necessary for the perfect childhood memory, after all. 
Download Our Free Ultimate Party Planning Guide
We know that a perfect party may seem like an impossible feat, but with a little bit of planning we believe everyone can have extraordinary events!
That's why we've put together a Free Ultimate Party Planning Guide, complete with checklists, timelines, and more of our party planning tips.
Spring is in the air and that means Easter is just around the corner! It's time to dust off your bunny ears and start planning the ultimate Easter party.
Whether you're planning a small gathering at home or a larger event with lots of guests, there are plenty of ways to make this Easter a memorable one. 
From delicious Easter recipes to creative Easter crafts for toddlers and kids, these Easter party ideas are the perfect way to help you easily create magical memories with your family this spring! 
Fun Easter Craft Activities for Kids 
Get those kids up and moving with these simple DIY Easter activities perfect for all ages! Choose one or try them all! They're sure to keep your kids entertained at your next Easter party. 
Easy Easter Crafts
Easter-themed craft activities are a great way to keep kids entertained and engaged. You can set up a craft station with supplies such as construction paper, markers, stickers, and glue. 
You can also prepare materials for specific projects such as making Easter bonnets, painting eggs, or creating Easter baskets. 
Here are a few fun favorites your kids are sure to enjoy: 
Easter Bunny Sun Catcher 
This adorable Easter Bunny sun catcher craft from Happy Toddler Playtime is a fun Easter craft that can be enjoyed by kids of all ages at your next Easter party! The directions include a tracer to make creating this bunny a breeze!
Simply grab paper, scissors, and glue to easily create this adorable sensory-filled suncatcher.
Get the directions and full info on this springtime craft right here. 
Spring Chick Paper Plate Craft
This spring chick is the perfect craft for your next Easter party or as a fun springtime activity for toddlers and kids alike!
Create a craft station and put the supplies in labeled containers and let your kids dive in! Grab the directions at Simple as That.
Cotton Ball Paper Plate Bunny 
Here comes Peter Cottontail! Perfect for large parties, this Easter bunny craft uses fun household supplies that are both simple and inexpensive! craft designed by Happy Toddler Playtime is a great way for kids to get creative at your Easter party and bring home an adorable decoration at the same time! 
Easter Egg Decorating Station 
Painting eggs is a classic Easter activity that kids of all ages absolutely love! Here are some quick tips for creating an "egg-stra" special Easter egg hunt this spring!
Set up a table with a variety of egg-decorating supplies
Place dye, stickers, markers, and glitter in containers for the kids to choose from
Hold a contest for the best-decorated egg, most colorful, most creative, etc with prizes for the winners
Put a Spin on Easter Egg Decorating: USE COOL WHIP!
You can also give egg decorating a different spin this year with Cool-Whip Dyed Easter Eggs. 
This adorable Easter craft from Crafty Morning, is another great way to get some creativity flowing at your next Easter celebration. 
She also suggests using shaving cream for a non-edible version but if you have zero food allergies at your party, the Cool Whip version is pretty spectacular! 
Egg-cellent Easter Party Decorating: Made Simple 
No Easter party is complete without decorations and simple DIY party decor! Your kids will absolutely love diving into this Easter Party box and taking part in decorating your home.
This  Easter Party in a Box comes with everything you need to create the perfect Easter celebration in your home. 
The best part? You can decorate your home early on and enjoy these decorations throughout the entire easter season! 
Adorable Easter Balloons 
Easter-themed place settings
Completely mapped out scavenger hunt with prizes 
And so much more! 
Simply pop open the box and let Crafty Holiday Helper create magical Easter memories…minus the hassle! 
Hoppin' Easter Party Recipes Kids Love 
Whether you're planning a fabulously extensive Easter brunch or just hosting an Easter party with yummy snacks and Easter desserts, these Easter Recipes are sure to please! 
Easter Bunny Veggie Tray 
This adorable snack tray created by Emily Enchanted is the perfect way to serve up a healthy Easter or springtime snack to your kiddos! Easy to create, you'll love shopping for and putting this fun Easter appetizer together! 
This adorable app also makes a great centerpiece with our Easter party plates you can grab right here.
Easter Cookies or Cupcake Decorating
Want a fun way to get the kids moving at your Easter celebration? 
Easter is the perfect time to do some baking. Prepare some sugar cookies like these adorable egg-shaped cookies from Ahead of Thyme or cupcakes in advance and set up a decorating station with frosting, sprinkles, and other decorations. 
Set up a decorating station for kids to move around and get creative with their own Easter-themed treats. 
Place Easter-themed baggies on a table and the kids can take these home as a tasty souvenir of the day.
Funny Bunny Fruit Platter
Another simple recipe to throw together for your party, this healthy snack is perfect for kids (and adults) of all ages! 
Choose your favorite fruits or follow this recipe to design your fruit platter like the one pictured above! 
Easy Easter Peanut Butter Thumbprint cookies
Whether you make these ahead of time or have the kids decorate these adorable cookies, they're perfect for your next Easter Celebration. Get the recipe from Six Sister's Stuff right here.
Easter-themed Games & Activities
Whether it's an indoor party, an outdoor celebration, or a combination of both, Easter-themed games are a great way to get your kids moving at your next Easter party.
Here are a few Easter game ideas we know your kids will absolutely love! 
Classic Easter Egg Hunt
An Easter egg hunt is a classic tradition that kids love. You can make it even more fun by hiding not only chocolate eggs but also plastic eggs filled with small toys or candy or add in the eggs your kids created! 
You can also create clues or a scavenger hunt to make it more challenging for older children. 
Hide the eggs both indoors and outdoors, depending on the weather and the size of your space.
Easter Piñata
A piñata is always a hit at any party. You can make an Easter-themed piñata with paper mache and shape it like an Easter egg or a bunny. 
Fill it with small Easter-themed toys, candy or even miniature plastic eggs.
To make it more challenging for older kids, use a blindfold and spin them around before trying to hit the piñata.
Easter Bunny Photo Booth
Kids love taking photos, especially when they can dress up and use props. 
Create an Easter Bunny photo booth with a backdrop and some fun accessories such as bunny ears, noses, and tails. 
You can also include some spring-themed props such as stuffed animal bunnies, flowers, or butterflies. This is a great activity for both kids and adults, and it will provide some great photo memories for the day.
These Easter party ideas are a simple way to celebrate the holiday and keep kids of all ages entertained throughout the day!
Hop to it: Wrapping up your Easter Party 
We've officially hatched some eggcellent ideas for your next Easter party that are sure to be a hit with your entire family. 
Many of these activities can be modified for older or younger children so keep in mind the ages of your guests at your party to ensure everyone has a fun and safe experience. 
Whether you're decorating Easter sugar cookies, crafting bunnies, or hosting an Easter egg hunt, get the kids involved in the party planning fun to make the day even more special.
Choose some, (or al), l of these ideas for your next Easter party, and create a memorable experience for your little ones that you'll all cherish for years to come. 
Getting ready to plan your next party? 
Crafty Holiday Helper has simplified party planning for any occasion!

From birthday party decor and summer party fun to Halloween, Christmas and so much more, Crafty Holiday Helper is your one-stop shop for all things party!

Creating magical memories has never been easier! Shop now at Crafty Holiday Helper.
Ah, Christmas! The holiday season is a time for cocoa, candy canes, and traditionally, a splash of craziness. As parents or caregivers of little ones, the Christmas season is a time for creating those magical holiday memories your kids will cherish well into adulthood. 
It doesn't go without saying, however, that these memories often come at the hand of sleepless nights, withering wallets, and stress-induced shopping. 
Thankfully, here at Crafty Holiday Helper, we've found (and created) the best ways to make those Christmas memories magical…minus the madness. 
Must-Do Christmas Crafts & Holiday Activities Everyone Will Love:
Below we've found some amazingly simple, yet adorable, hands-on holiday activities that are certain to cut down on the Christmas craze this year. These tried and true Christmas crafts and ideas are the perfect way to ensure that you sit back, relax and have fun with your kids this holiday season! 
These delightfully delicious spoons are adorable and fun to make! Certain to warm up those little fingers on chilly days!
Create your very own Christmas Bucket List for the entire family!
Family members of all ages can join in on the fun by selecting an activity on this list or by adding in one of their own. Place this list of favorite activities up on the fridge for a season filled with fun recommendations from everyone.
This adorable, simple activity uses marshmallows, chocolate chips and a few other kid-approved ingredients to let your kids make their own snowmen! 
Fingerprint Christmas Lights
You only need paints and paper to create this adorable Christmas craft! Simple and fun, this craft is one that you'll always cherish! 
Perfectly simple Christmas decorating is what Crafty Holiday Helper is all about! Answer the question of how your elf travels back and forth from the North Pole each night with this adorable elf door! Place the door by the fireplace and set the stage for your elf to travel to and from your home to spread Christmas magic! 
This adorable idea from Crafty Morning is the perfect way to combine crafting with a favorite sweet treat. Perfect for small hands and fine motor skills, this adorable sheep ornament is super fun to make! 
Create Your Own Snow Globe!

The Dollar Store is one of our favorite spots for craft supplies: especially for Christmas DIY projects! Just check out this awesome DIY snow globe holiday craft that's made with inexpensive items! It's sure to be one of those favorite holiday crafts you can do year after year! Simply grab these items:
Bottle Brush Trees
Synthetic Snow
Plastic Snow Globe
Hot Glue Gun
Create several of these with your kids to use as holiday home decor or DIY these snow globes as gorgeous homemade Christmas gifts to friends and family! For all the info on how to create these awesome DIY Christmas snow globes, check it all out right here.
EASY DIY Paper Straw Christmas Tree Craft
Create an earth-friendly biodegradable Christmas decoration with your kids this holiday season! These colorful Christmas trees made from paper straws from Crafts by Courtney are the perfect holiday craft for kids! Prop these colorful paper straw Christmas tree decorations in your windows and doorways to display a truly decorative scene created by your kids this holiday season!
Toilet Paper Roll Reindeer
Oh, deer! This reindeer craft is so cute and super easy! Grab toilet paper rolls or even paper towel rolls, paint, and a couple of craft supplies to make this simple craft your kids will love. 
Creating magical holiday memories and traditions that you'll enjoy with your family for years to come is what Crafty Holiday Helper is all about. 
Get a Jump on your Christmas Elf Decorating
Skip the craziness of the holiday season with the only essential Christmas Elf Kit you'll need.
Crafty Holiday Helper's elf kit is an essential part of creating the perfect Christmas decorations for your kids with zero effort!
Featuring 27 high-quality, adorable props your kids will love, our Christmas Elf Kit is the best way to get a jumpstart on making memories that will last a lifetime without sacrificing sanity. 
Below we uncover how easy it is to use our Elf Kit, what's included in this year's indispensable collection and how to order yours before the season starts and we sell out! 
Why The Christmas Elf Kit? 
At Crafty Holiday Helper,  we're passionate about helping you to make lifelong magical memories for your loved ones. Our popular Christmas Elf Kit is one of the many ways we simplify the season by helping you to bring holiday magic into your home!

With 27 delightfully funny, adorable, scenes, cards, and more for your elf,  the Crafty Holiday Helper Elf Kit has the days leading up to Christmas completely covered. 
Our elf kit easily helps you to:
Save Time: scenes are created and completed for you in one kit!
Create life-long memories
Kick back, avoid stress and enjoy more of the celebrating 
Make magic happen with thoughtful scenes, note cards, and more 
What's Included in my Elf Kit?
Christmas Elf Ideas with your Crafty Holiday Helper Elf Kit: 
Get Your Christmas Elf Kit features elf decorations and props that are certain to surprise your kids leading up to the big day until Christmas Eve! Inside your kit you'll find: 
An Official Arrival Letter! Yay! Your elf has arrived! Our kit includes two adorable letters: one for newly adopted elves and one for returning elves.
Magical Glove: avoid any chances of your elf losing its magic with this magical glove. Things happen and if your elf somehow falls over or gets kidnapped by the family pet, this magical glove is there to save the day and retrieve the elf without losing its magical power! 
Special Travel Container: Traveling this holiday season? Your elf has nothing to worry about! Portable, convenient & luxurious, you can safely take your elf anywhere this Christmas season. From busy airports to grandma's house. (Also serves as PPE for visiting elves.)
27 Detailed Scenes: specially designed for endless fun and creativity the entire season through! Set up magical scenes with whimsical props this season. Every prop is of the highest quality so you can reuse them every season! 
Infraction Cards: Have you been naughty or nice? Each printed card is officially signed by your elf for extra authority. Having a stack of these cards available will bring you peace and joy.
Departure Letter: When your elf is ready to depart on Christmas Eve, have them leave behind a letter your children will collect for years to come.
Creating Christmas magic every day requires NO effort when using Crafty Holiday Helper's Christmas Elf Kit! Forget the chaotic crafting and messy late-night stressful elf decorations. Simply open our Christmas Elf Kit each and every day and take out the adorable elf decorations such as: 
Elf Baseball Scene: Have baseball fans? This scene comes complete with bat, ball, and an adorable note card! 
Elf Connect Four Scene comes with an elf-size Connect Four and a note card from your elf.
Elf Pizza Scene: your elf has a "pizza" in his heart for your kids! 
Elf Bicycle Scene: Do your kids love to ride bikes? So does your Elf with this scene! Comes with a bike and a note card from your elf! 
Plus so many more elf scenes to fill your kids' Christmas countdown days with magic and fun!
How Does the Christmas Elf Kit Work? 
Sit back, relax and watch the magic unfold! Our Elf Kit makes Christmas traditions an absolute breeze. Our quality and thoughtfully designed cards and elf decorations will have your kids excited to greet their elf every single day. What's even better, is that it takes seconds to choose your scene and place it with your Christmas Elf!  
Here's how the magic all comes together: 
Order your Christmas Elf Kit: place your order no later than November 16th so it arrives in time. Then keep it hidden until it's Thanksgiving night!
Start the Adventure: On Thanksgiving night place your Christmas Elf and the included arrival letter in a place your family will be sure to find them. Then the magical fun begins! 
Enjoy the Elf Antics! Create silly adventures for your elf using the elf decorations and scenes kit each day leading up to the big day! Surprise your kids every morning with our detailed, funny props for your kids! 
Memories that will last for years and years to come:  Christmas Eve will come and your elf will need to say goodbye. Your elf will leave behind an adorable departure letter and memories for you and your family!
Creating magical holiday memories and Christmas traditions that you can enjoy as much as your family is what Crafty Holiday Helper is all about. Order your Christmas Elf Kit and create the perfect holiday magic for your family this Christmas season! 
Discover why our Christmas Elf Kit is one of our most popular kits each year. Be sure to order yours before they sell out! 

Looking for more amazingly simple ways to create memories with your kids? From back-to-school celebrations to birthday parties and fall fun, Crafty Holiday Helper has it all. Check out these posts for more incredible ideas: 
Celebrate back to school with our back to "cool" school kit Here
Check out the BEST summer ideas Here
Got a birthday party coming up? Check out this complete birthday kit your kids will be sure to love
This Fourth of July stay cool for the summer these with these fun desserts!
You can purchase your favorite cookie brand or bake your own (you can remake the cookie dough and freeze extra), and serve with different flavor ice creams and coatings. 
Ice Cream Sandwich Bar
There are many cookie options to choose from these days! So why not serve a selection of cookies such as chocolate chip cookie dough, sugar, peanut butter, white chocolate macadamia nut cookies, oatmeal raisin cookies, or double chocolate chip.
You could even add or replace the cookies with waffles; yum! Next up, serve the cookies with different ice cream flavors that pair with the cookies you serve. Some ice cream staples would be vanilla, chocolate, strawberry, or rocky road.
Coat your cookies with mini chocolate chips, rainbow or chocolate sprinkles, crushed nuts, minced fruit like berries, banana, and raspberries, your favorite crushed candy bars.
Jello
Serve different flavors of jello, or add it to your favorite summer cake recipe! This is such a simple dessert that can stand on its own or serve as a complementary element to another dessert. 
Fruit Salad
Go ahead, go berry crazy! I love a good fruit salad, and after washing and slicing all the fruit, sometimes I will add freshly squeezed lemon and oranges and stir. You could even sprinkle a little brown sugar in and let it sit for about an hour or two if you'd like. The only topping you'll want for this dessert is whip cream.  
Lemon Cupcakes
Cupcakes are a great party dessert! You could offer different icing options and have guests ice their own cupcakes or serve up cups with lemon-lime or orange lemon icing. 
Ok, so now that we have some solid dessert options perfect for summer, let's think about what beverages to serve your guests.
Beverages
There are many ways to stay hydrated at a gathering, and serving up options aside from the standard juices, and fountains sodas is key. I like to create a little "bar" area for guests to concoct their preferred drink. 
Offering flat or sparkling water, freshly brewed ice tea, or lemonade allows some room for creativity. With those four main nonalcoholic drinks options (you can add others as well!), serve alongside a large plate of sliced fruits such as oranges, limes, lemon, ginger, cucumber, blood oranges, blueberries, raspberries, strawberries, mint, or basil. 
If you happen to have a few glass bottles or mason jars, you can offer sweetness like orange-sweetened simple syrup, honey, or even maple syrup to help add a little sweetness to the drinks. The best part about allowing your guests to serve themselves is making it as sweet or not a lovely as they'd like. 
Whichever mocktail they decide to create will serve as a wonderful conversation starter too! And, one of these options is bound to certainly inspire the youth of the party to stay hydrated in the summer sun! 
You could even serve some smoothies, sweet fruity drinks (loaded with hidden vegetables!). #MomConfession: Sometimes, when my kids aren't in the veggie-eating mood, I will offer a smoothie packed with spinach and kale buries under the sweet flavors of banana and maple syrup.
However you choose to celebrate your holiday weekend with your family, I hope it's a healthy and happy one! Share with me on social what your favorite foods are to enjoy during the July 4th weekend!

Stay crafty,
Jaime
Whenever I think of Summer, grilling always comes to mind! Trading family dinners indoors to outdoor backyard dinners and baked to grilled dinners. Grilling delivers flavor, elevating meats, veggies, and other food favorites such as slices of bread and fruits!
When gearing up for cookout season, grill prepping is key! Here are a few tips and tricks for grilling season.
PREVENTATIVE CARE:
Always keep your grilled covered; protecting your grill and grilling accessories from damage is essential for long-lasting usability.
Before you fire up the grill, look to see if you have anything left on the grate from your last grill session; give it a good scrub with your stainless steel brush.
COOKING TIPS:
Preheat your grill with the lid closed for 10 to 15 minutes.
While the grill preheats, you can prep your vegetables and meats.
Always keep an extra clean plate, a cooking thermometer, and a timer on hand; you don't want to under or overcook your meats.
Keeping your lid closed helps to trap all the smokiness that develops when the fats vaporize in the grill. However, keep in mind the thickness in cut your meat is it can cook quickly.
Never grill inside your garage as hazardous chemicals can enter your home.
Practice patience; taking your time to cook your dishes enhances the flavors.
Be mindful of the flames and monitor your food as it can take one second too long to overcook your meat while grilling.
Start with simple recipes and work your way up to pro status through time and practice. Summertime always brings a sense of freshness to the table when dinnertime arrives. Serving fresh vegetables with a smokey, grill flavor in the backyard is what it's all about at home.
So, why not develop your grilling technique and evaluate your cooking master power in the backyard this summer with your family?! Share on Instagram or Facebook your grilling tips and tricks or even some of your favorite grill-worthy recipes or when you began learning how to grill?
Stay crafty,
Jaime
Every BBQ or backyard cookout needs a few appetizers to serve before serving the main course or options off the grill. Some of our family favorites has
Here are a few ideas and some of my personal to serve: 
CHIPS & DIPS
Chips and dips is in my opinion a classic nosh worthy food at cookouts, I mean who doesn't like enjoy chips and salsa till the main "course" is ready . Since chips and salsa is such a simple appetizer, you can practically make the salsa from scratch, but if you do not have that kinda time, purchase your favorites dips at your local market. 
You could even make (or buy) roasted corn salsa, salsa verde or a cucumber mango salsa! These salsas are packed with flavor and also vibrant in color! 
You can make anything from a pineapple jalapeño dip or a corn dip with tomatoes, lime and cilantro (salsa hack: cilantro is such a great ingredient to any salsa recipe!).This dips also make a great hot dog or burger topping too.
If you want to take it up a notch, serving up black bean dip, spinach and yogurt, hummus (garlic and roasted hummus are a classic party staple). Just remember to keep those dips that require refrigeration, cold. 
Oh, and since the grill may be on already, you can create a yummy cheesy dip and cook it on the grill (in a cast iron, of course). 
APPETIZERS OFF THE GRILL
Grilled Corn: If grilled corn doesn't scream summer, I don't know what does! You can brush with butter and a little salt or dressed with a brush of mayo and top with cojita cheese! Oh, and you can top it with a little bit of freshly cut cilantro.  
Veggie or Fruit Skewers: There are another fun way to serve appetizers, I am fan of loading up skewers with fresh fruit or veggies and whoever would like there's grilled, great, if not, still to the basics. You could brush a yummy balsamic glaze on the veggies or serve it on the side for your guests. 
Grilled Pineapple: Slice, grill and enjoy! This one is so simple and so yummy to enjoy, especially during cookouts! You could even chop the grilled pineapple and mix with minced intro and jalapeños for a smokey, sweet, spicy topping for your summer dogs and burgers! 
Grilled Nachos: I bet you didn't think you could grill nachos, well you can! In a cast iron, load your nachos with all your favorite toppings, and serve freshly melted oozing with cheesy goodness!
Wings: Who doesn't love off the grill wings! Create your own dressing to brush on the wings like a bbq or hot sauce. You can even create a glaze for your wings with a few simple ingredients from your pantry!
No matter what food items you decide to serve at your next cookout, I am sure your guests will enjoy it and the festivities! Do you have a food suggestion you'd like to share? Share your family cookout favorites on Facebook and Instagram!
Stay crafty,
Jaime
It's SUMMER, what party plans do you have in store for the summer? The longest day of the year is June 20th, the Summer Solstice (also, it's Father's Day)! Why not have this day be a cause for celebration? With a bit of extra summer fun to be had, you can spend more time creating fun chalk murals or a backyard camping adventure! 
Here are a two other summer celebrations to plan this season:
BYOBG
Bring your own board game night! These nights in are fun because you never know which game someone will bring. You can focus on the snacks and setup, and let the guests bring the entertainment. Proceed with caution, as nights like these can quickly turn into a sleepover! One tip for board game night is to write on masking tape which game everyone brought and offer small lunch bags for pieces of each game so they do not get mixed or lost.
Movie Night
A movie night (or afternoon) is a great way to have a low-key party without much work! Family movies such as Shrek, Despicable Me, Monsters Inc., and Toy Story offer sequels or trilogies, making for a great movie-watching slumber party. You can offer a different snack for each film and create an intermission for the celebratory eats! 
Some of my favorite snack ideas are popcorn, marshmallows, cookies, fruits, cotton candy, and pretzels! You can even bump it up a notch and create snack boards (move over, cheese boards!). Oh, and don't forget to ask the kiddos to bring a sleeping bag which will help you save time and space for worrying where everyone will sleep. 
What summer parties do you enjoy throwing for you and your family? or with friends? Share with me on Instagram or Facebook!
Stay crafty,
Jaime
Summer grilling becomes a state of mind right before Memorial Day Weekend! With getting our home summer-ready (here's what I do to summer-ize our home), this checklist helps me get holiday weekend ready!
HERES YOUR MEMORIAL DAY WEEKEND CHECKLIST:
2-3 WEEKS BEFORE:  
Invitations: It's up to you if you would like to have a large family gathering; we tend to keep things more intimate. So, check with your immediate family to see who would like to join you for some backyard fun with a summer menu.
Menu: What do you want to serve as the main course? What snacks and desserts will you serve? Be mindful to consider any allergies that a family member may have.  
THE WEEKEND BEFORE:
Backyard Ready: I like to ensure the outdoor furniture is cleaned and ready for company. Also, I like to make sure the backyard is ready for any outdoor activities or family games we may play.
Grill Prep: Clean and check if all the burners are working, if you have enough propane, and be sure you are stocked up on essential grilling supplies, including propane, charcoal, lighter fluid, etc.
A COUPLE DAYS BEFORE:
Pantry cleanout: Where will all your groceries for the holiday weekend eats be stored? I usually take a day to clean out the fridge and pantry to ensure all the condiments, snacks, and dressings are not expired, and if so, I will add them to the shopping list.
Refrigerator makeover: Before venturing to the market, ensure you have enough fridge space for all your nonperishable foods. I can't tell you how many times I had to play refrigerator Tetris to try to make it all fit.
Decorations: I love summer decor, and adding some to a family BBQ adds a little something extra. Sometimes it's fresh flowers as a centerpiece, a bright table cloth, or even some citronella candles (and it helps keep the bugs at bay!).
Clean up: I like to take a day before and tidy up of all the things around the house.
THE DAY OF:
I like to wake up a little earlier on days where our family gathers for celebrations. Food prepping in advance allows me to be a better host while interacting with family and guests simultaneously.
There you have it, my simple checklist to planning our kickoff to summer! How do you prepare for family gatherings or summer BBQ's? Please share with me on social (Instagram and/or Facebook) and don't forget to use #CraftyHolidayHelper!
Stay crafty,
Jaime
Here are a few reasons why I love the month of April, it's FIRST family holiday after Christmas is Easter! I always get so excited seeing families come together over a meal, dressed up in the most colorful attire and decorations coated in bright pastel colors!
The SECOND is that Spring serves as a reminder of the new season. We can shed the beginning of the year and the cold winter, leaving that behind us. From now on, days are filled with sunshine and the smell of flowers growing and BBQing!
The THIRD is all the possible backyard parties we can have! With the weather slowly warming up, you can host a small get-together in your backyard! I love hosting Popsicle parties or donut parties and pairing them with a scavenger hunt or activity kits!
A neat idea is hosting an Earth Day celebration! You can have little planting stations where the children can plant their desired flower or herb. You could even plant a small tree in your backyard and then celebrate by firing up the grill!
Here are some other party ideas to try this April that can be hosted outdoors in the comfort of your backyard this weekend:
Earth day party: They all can plant a new herb, veggie, or flower in honor of Earth Day!
Ice cream party: Create the ultimate ice cream bowl!
Tie dye party: Design their very own tie-dye shirt!
Do you have any other fun April Party ideas? Please share with us by commenting on Facebook or Instagram!
Stay Crafty,
Jaime
Take your virtual baby shower to the next level in just a few simple steps! 
Hosting a baby shower is such a fun celebration! And, yet, planning one (especially when celebrating virtually) can be a little overwhelming. A virtual celebration is certainly different than in person – you can't touch a mom's belly and feel the baby kick. Still, here are a few steps to ensure a memorable experience. We've taken some of our favorite baby shower moments and replicated them to fit the online space to create the perfect memory for your mommy to be. 
Step 1: Checklist 
My Virtual Party Guide is the template I use when planning a virtual event that will prepare you for these next few steps, helping take your virtual baby shower to the next level, making mom feel extra special. I always encourage asking for help from another close friend or relative from the mom to cover more ground. Note all the steps in the virtual party guide still apply; however, we'll go more in-depth on some steps with added tips to make the day memorable for the mommy-to-be. 
Step 1: What are we celebrating?
Step 2: Themes
Step 3: Date and Timing
Step 4: Virtual Location
Step 5: Invitations
Step 6: Activities
Step 7: Itinerary
Step 8: Have a co-host
Step 9: Reminders – Calendar
Step 10: Enjoy and have fun!
Step 2: Mommy Wishlist
Begin with a call to the mom-to-be to understand her wishlist, expectations and availability. Understanding her expectations will ensure the party will be a success, but some elements can also be left to a surprise. 
Must Ask Questions
Guest list – names and emails

It's recommend breaking the party up into smaller groups to allow for a more intimate setting with groups that know each other. 

Appearances

Dad to come by near the end (assuming it's a woman only party)
Nursery showcase

Preferred date & time 
Gift Registry

There are many online companies online that provide registries that will ship the products straight to the celebrant's home and will even do the gift wrapping for you. Confirm where so it can be included in the invitation. 

Open presents on camera or separate day

Our suggestion is to open a separate day and to say a generalized thank you at the end of the call.
Step 3: Guest List
The best thing about hosting an online event is more people can participate in the fun as there are no limitations, only a phone and laptop/computer required. Now that you understand the mom-to-be's expectations begin planning the guest list. 
I recommend, if possible, separating your party into smaller groups of 6-10 people, preferably with people who know each other. A smaller intimate group will allow for better flow regarding activities and a more intimate setting with mom. 
Step 4: Theme
Choose a theme. Yes – when it comes to baby showers, a theme is essential! This will come into play in steps 5 and 10. The theme should consist of a theme type and theme color – for example, animals and Blue. Helpful hint: Ask mom if she has a nursery theme and try to plan around the theme. 
Step 5: The Invitation
Send out invitations at least one month before the big event. Luckily, there are a few options online to help you and tons of websites with formal e-vites that can help you track guest lists and send reminders, etc. Alternatively, you can track them yourself in an excel sheet and send an email using a template from Canva. To tie everything together, don't forget to include the theme. 
However, this is not just your ordinary invite. You'll need to include two things not typically included in a regular virtual invite which will help set your party to the next level which are the registry details and the address of where the gifts should be sent to.
Step 6: Baby Shower Activities
Here are five easy virtual games to play at the shower. I recommend playing three games at the event. Note: Since the games take place virtually, many of the games will have to be on the honor system unless you have a smaller group and can have each person say their answer. We suggest having some prizes for the winners, such as a virtual gift card (reach out to the winner after ensuring the gift card can be used where they are located).
Game 1 – Guess the Age

Have your guest write down their guesses on how old the mommy or daddy is in each picture.
For tech savvy, this can be played on Kahoot; however, there is a limit of 10 participants on the free version. 

Game 2 – Mom or Dad

I like to leave this game last as it usually always opens up to conversation and banter. 
Share Screen: PowerPoint presentation or feel free to just read out loud.
Each participant should fold their paper in half and write Mom on one side and Dad on the other. Make sure you are on gallery view so everyone can be seen and all answers can be seen. 
10 statements of who is more likely to do a certain task, be a certain way, etc.  Example: Change the diaper at midnight, take more pictures of the baby, be the fun parent, be the strict parent, etc.

Game 3 – The Price is Right

Good time to check on that registry and see if there are more items to be bought. Pick items from the registry and have people guess the price; whoever is closest gets the point without going over. 

Game 4 -Top 10 Baby Names of the Year Mom was Born
A little bit of goggling will need to be involved, but you can always find the top baby names, which is always fun.
A helpful hint is to think of your elementary school friends and what names were popular.
Game 5 – Name that Tune… Do Do DoHave two teams with one individual per team designated to be the "singer."
In a private chat, send 10-12 songs varying from nursery rhymes to lullabies and songs with the word baby – like "Baby Got Back." 
The singer will have 90 seconds to "sing" by only using the sound "do."
Lastly, we have a BONUS game… for when dad comes; we had to have at least one fun to test out these parental skills for when the baby comes.
Game 6 – Diaper Stacking CompetitionHave mom and dad take ten diapers each and give them a minute whoever stacks the diapers the highest wins. 
Step 7: Itinerary
Have an itinerary and don't feel the need to stick to it but use it as a guideline. Itineraries are great and can help keep things moving and on track but sometimes things change or another great idea sparks in the moment. This is key to hosting a virtual event as there are many variables and so we suggest keep an itinerary with length of time things should take and use this as a guide to keep the fun moving. 
Example Itinerary:
5:00-5:15PM – Get settled (tech issues)
5:15-5:30PM – Introductions if required and welcome
5:30-6:00PM – First activity
6:00-6:15PM – Second activity 
6:15-6:30PM – Discussion – Have a back up list of topics related to being a newborn parent 

When is the baby due? And are you all set?
Home or hospital?
What does mom look forward to most after labour?

6:30-7:00PM – Third Activity
7:00PM-7:20 PM – Bring dad to the party or Nursery Tour
**If opening gifts on video – allocate some time at this point for gift opening – Helpful Tip:  designate someone to take notes on gifts and who they are from to help mom with sending thank you cards**
7:20PM-7:30PM – Thank you for attending (from parents), picture of group, and wrap up party
Step 8: Reminders
You will want to send 1-2 reminder emails depending on the response rate. 
Email 1: The halfway point to remind people to send guestbook information and registration link.
Email 2: About five days before, reminding people of the event date and bringing a pen and paper for games, preferably a marker for easier visibility. Option if using zoom send backgrounds to attendees to use with theme colors with a title header on the top left or right (aka not in the middle where your face would be) saying it's the mom-to-be's baby shower.  
Step 9: It's Party Time! Extras for Mom (morning of or day before)
Since we can't be together, we like to do this as a nice extra personalized touch for the mom to be so she still gets some of the glitz and glam of an in-person baby shower. We like to shop locally and send a local meal to the parents to enjoy before the party. As well as an at-home baby shower box with the following items:
Snacks for the party
Nonalcoholic drinks for cheers
Streamers
Balloons
Pen and Paper with markers
And a sash that says mom to be (optional but always cute)
Step 10: Thank-you card and the Guestbook
Within a week of the event, send mom the guestbook, include pictures from the event. This can also be sent electronically; however, we like sending a good old fashion scrapbook keepsake. Mom to be to send out thank you cards to guests for attending within one week.  And, there you have it, my Crafty Holiday Helper's ten steps to taking your virtual baby shower to the next level!
Please share any tips or tricks you've learn along the way in planning your virtual baby shower!
We love celebrating Valentine's Day with the family as it's a way to shower our children, family, and friends with love and joy while spending a meaningful day together. Plus, who doesn't love a day with chocolate, candy, and flowers? We've planned out a special day for you and your kids, including some of our favorite activities from our latest blog: 24 Valentines Day Activities for Preschoolers. 
Breakfast
The most important meal of the day is breakfast. Why not serve a heart-shaped breakfast as a family treat?And, maybe some heart-shaped strawberries to add an extra touch of love. 
Activity 1: Arts and Crafts
Craft 1: Bookmarks

The bookmark is beautiful; however, for Valentine's Day we recommend doing Valentine's Day jokes kids will love.
These are a few of our favorites from JacquiB:

What do you call the world's smallest Valentine's Day card? A valen-teeny.
What did the stamp say to the envelope on Valentine's Day? I'm stuck on you!
What did one volcano say to the other? I lava you!
What did the cucumber say to the pickle? You mean a great dill to me.
How did the phone propose to his GF? He gave her a ring.
What did the one sheep say to the other? I love ewe!
What do you say to an octopus on Valentine's Day? I want to hold your hand, hand, hand, hand, hand, hand, hand, hand!

Craft 2: Q Tip Painting or Cards

You can either do a card like in the picture or a poster to display. For this activity, you only need paper, pint, Qtips, and Tape. Just as it sounds use the Qtip as a paint brush and dot paint all around a heart cut out- use the tape to tape the heart down to ensure it doesn't move around. Once the paint has dried remove the heart to reveal your finish.
Activity 2: Baking – Cupcakes & Cookies
We found this easy cupcake and cookie recipe you can do with your kids. Our kids love decorating cookies and cupcakes so let them get creative. Remember: no frosting is too much. Try to save these treats for dessert as you don't want to spoil lunch or dinner. 
Lunch
Edible bread painting for lunch. Make lunch exciting with cute sayings or heart designs for Valentine's Day. 
Get Active: Chose one or complete all three
Game 1: Walk Around Neighborhood
It's always good to get some fresh air and go for a family walk. Since it's Valentine's Day, play a game of "I spy" something red or pink in the neighborhood. Another fun idea you can do with the kids on your walk, take some of Valentine's Day cards and distribute them to your neighbor's mailbox for a pleasant surprise. 
Game 2: Valentine's Day Musical Hearts
For your at-home dance party, this game will get the heart pumping. Layout a bunch of hearts with different phrases to dance out like "walk like an Egyptian," "move like a robot," "do the moonwalk." When the music stops, each player grabs the nearest heart and dances out the phrase. To make sure your kid doesn't dance around the same one, take away the used hearts every round. Keep going until all the hearts have been completed.
Game 3: Pin the Arrow on the Heart
Each person will have an arrow. Blindfold each player, turn them around 3x, and have them try to pin the arrow onto the heart. 
Free Time
We included some free time for you and your family to choose or to take a one-hour nap for those with preschoolers. There is nothing wrong with taking a break and resetting before dinner!
Dinner
Whip up a simple dinner where the kiddos can assist you in the kitchen. Turning cooking into a family activity will certainly be a lot of fun especially when its something as easy as taco night! Of course, compliment your meal with the Crafty Holiday Helper Valentine's Day Table Setting. Lastly, don't forget dessert – there is nothing sweeter than ending a family dinner with a tasty dessert with some laughter.
End the Day
We love to end the day watching a family movie together. One of our favorite family films is Shrek as it's full of funny moments to get the family laughing with a hint of romance to get everyone feeling the love on Valentine's Day!
Stay Crafty,
Jaime
Just because we are spending more time online doesn't make an event less special or that it should be on hold. Entering a new year means celebratory birthdays, holidays, and milestones are amongst us. Virtual events can bring family and friends together to share those big moments from all around the world. Here is my ultimate virtual party guide and checklist to ensure your party goes off without a hitch.
Step 1: The cause for celebration 
In the invitation, it's crucial to list the cause for celebration! Are you and your loved ones coming together to celebrate a birthday, baby shower, graduation, engagement? Once you decide on the type of milestone you are celebrating, it's best to find out the date and time that will work for everyone's schedules and timezones! Depending on the amount of people attending we recommend the ideal party length to be between 1.5 to 3 hours. This time frame allows enough time for people to settle in (fix any tech issues), fun activities and good banter.
Step 2: What's the theme?
I love pondering the theme to any party I plan to host (virtually or in-person). The theme can be determined with 1-2 colors used in the invitation, itinerary, and activities which helps deliver consistency with a personal touch! Themes help tie everything together and adds an extra special touch when celebrating from a distance. You can even encourage attendees to decorate their space based on the theme and share who had the best decorations! 
Step 3: Virtual Location
There are plenty of apps and platforms to host a virtual event in today's tech world, depending on how many individuals are attending. However, the two favorites I have used are Google Hangouts and Zoom. The reason is that I can have over a dozen attendees join! The only downside is you would need an account to use these platforms. You can also use HouseParty, which hosts up to eight attendees, and you can play games within the platform. Even Messenger Rooms (no account needed) work as another option, especially if you don't want to ask your attendees to create a new account. 
Step 4: Invitations
Virtual invites are just as crucial for virtual events as they are in person and should be treated as such. They can be both informal (text) or formal (evite or email). We recommend a calendar request also be included with the invitation or when the attendee says YES! The invite should list all the details you would share for any party invite. For example, below is a simple guideline of details to include, but feel free to add more flair than what we did:
Event: Bryan's 13th Birthday
Theme: Superhero, dress in your favorite superhero outfit
Date and Time: Monday, January 18th at 5:00 PM EST
Location: Zoom Meeting – Link – Meeting ID

For good measure, add a contact for technical issues or instructions on how to connect for those not so tech-savvy
Step 5: Activities
Keep the energy going with virtual activities and believe it or not; there are quite a few games you can play virtually. One of my personal favorites is playing Pictionary (using the Zoom whiteboard), a Dance Party, or even a Mad Lib! Stay tuned to our next blog on virtual activities you can play, including FREE downloadable templates. 
Step 6: Itinerary
Itineraries help keep things moving even as the agenda changes. Have a loose itinerary to use as a guideline and use it to keep the fun rolling. 
Here is an itinerary I put together for a previously virtually held event: 
5:00 PM-5:15 PM – Get settled and test out all technology needed for the virtual event. 
5:15-5:30 PM – Introductions
5:30-6:00 PM – First Activity
6:00-6:30 PM – Discussion – Have a backup list of topics related to the theme.
6:30-7:00 PM – Second Activity
7:00 PM-7:15 PM – Screenshot a group photo.
7:15 PM-7:25 PM – Final party talks, fun, etc. 
7:25 PM-7:30 PM – Thank you for attending and say goodbyes.
Step 7: Assign a co-host
When it comes to hosting a virtual, one thing for sure is although you can do it alone, you shouldn't do it alone. Ideally, you want someone organized and tech-savvy – this role will monitor time (keep things moving), assist with tech issues, and set up the games (share screen). The second co-host would be more active as a game leader for instructions and banter (break the ice). 
Step 8: Reminders
Your invitations are out, the itinerary is set, and all the props for your themed event have been ordered! Just one more thing to do is share a reminder for yourself to ensure you begin to set up everything on time without any technical difficulty. 
Step 9: Enjoy & have fun!
You did it – it's the big day, and everything is all set to go! Now that everything is planned ENJOY and HAVE FUN! Relax and enjoy the time spent together virtually online. Lastly, don't forget a group picture because this will be one for the picture books.